A business Card I had made in the early 1960's.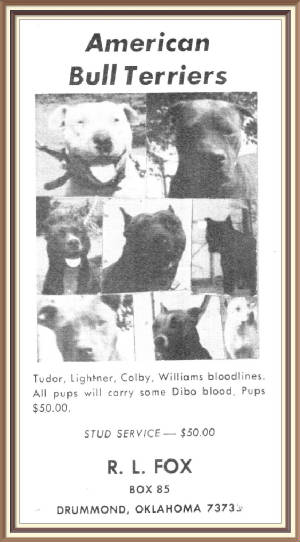 When I was a young man fighting dogs. I didn't brag on my dogs or run anyone else down about their dogs. A lot of the old timers bragged on me and my dogs. That is the way I became known. There is a certain so called group of self appointed dog men that get on different gamedog chats and run you down and run your dogs down. They make up stories about you. They get a kick out of hurting peoples feeling. They do me the same way. So do not feel bad. These men are not real dog men. So laugh to yourself about them. They are nothing and never will be anything. They step on people's reputation verbally thinking it moves them up the ladder. I did my talking in the pit years ago. Most real dogmen of my era laugh at these nobodies and just go on. Don't let them get to you. Keep your chin up and keep a smile on your face. You are more important than them and always will be. Just a little encouragement from Randy Fox.
Everyone seems to Demonize people who fight dogs. Yet some of these people are good people. I am telling a little something about me. That way you can make up your mind if I am Ok or a Demon. I was a boy around two years old. My parents got divorced. One of the very few times my Dad Vernon McCasland came and took me with him was when I was seven. We went to Mountain View, Oklahoma. This area was the heart of dogfighting back in those days. My dad took me to visit Ernest and Nell Hayes some relatives of ours. Jim William the famous dogfighter and Lawman lived directly behind them. My dad and I went to the back to look at Jim's dogs. I remember he had brick dog houses. I've never seen this anywhere else. He had a black female in a pen. This pen was part of the fence between Ernest and Jim's property. This black female stared at me with her yellow piercing eyes. She didn't bark or growl. She just stared at me and I stared back. We must have stood there for 10 minutes with her and I frozen in our stare's at each other. Vernon my dad said, well what do you think? I said I'm going to get me one of those dogs when I get some money. It is so weird how I set out to do that at that age and eventually did accomplish that desire. I was attracted to the seriousness and the muscled look of her and the unique yellow eyes. I could see the dominance in her eyes. I could tell she had no fears. Isn't life grand!
.
Pedro is a Grandson to my famous 'Alvin The Dog'. He is feathred in a Stratton Book.
Below is the little 4XW 'Tush' female I let Doyle Reddick have . Tush is out of Alvin and Bess.
The little 4xw Tush female a daughter to Alvin.
Index to the left
randyfox70@yahoo.com
Don't fight dogs unless you like jail. Dedicate your life to your family and not to dogfighting. Children often learn crime from their parents. I took my cell off here. People were texting me and I can't see the screen good enough to read it. I will only use my cell to call out. It will be off the rest of the time. My home phone is 405-288-6014. Call any time between 7 in the evening and 9 in the evening. Or write
randyfox70@yahoo.com
anytime.Thanks Randy Fox
Years ago we held some dogfights at my folks home. My mother made coffee and sold it at the dogfight. My first fight with Alvin was in one of their Barns against Avin Kephardt. Earl Tudor was there and Don Maloney was there. Around 50 people were there. I fought around 50 dogs. that is including other people's dogs I fought for them. I bought most of the dogs I fought because I am too soft hearted about fighting a dog I raised. Although I did fight some of the dogs I raised and won with them. I bit my lip and went for it so to speak. I was real nervous for them. I have the dogs I have fought all written down. I lost five fights. It is easier to remember who I lost to. That dwells some on my mind. I do not like to lose. I was very successful in the Pit-dog-game you might say. I have all my eight dogs in large Chain-link pens. None are on any chains. There are no chains in the ground on my property and anywhere else with my dogs on them.
This is Cedar a female Patterdale I owned.
I thought a lot of this female bred by Gary Hammond. I no longer have Patterdales.
I have been married to the same woman for fifty three years. If we live long enough. She is a very quiet woman. Doesn't care for the dogs and I like her that way. Doesn't cuss, smoke or drink. She has never drink one beer in her life. I have two Daughters, seven Grandchildren two are boys. I also have one Great Granddaughter and one Great Grandson. I am very active here at my home and in family gatherings. I own an older home on two and one half acres. That is enough land to take care of. My place is a little small but it is easy to take care of and it is comfortable. I owe not one penny to anyone except at property tax time and income tax time and occasionally medical bills. I am not rich and don't have a lot of money. You might say I'm poor if you compare me to today's standards. I get by with social security and my state retirement. My offsprings all live close to me and we never fuss. All my offsprings love me and I love them very much. I'm a retired Plumbing Contractor and am a very happy man. I've never been arrested for any felonies. I have a clean record. Not very many pit-bull dogfighters can say that. I don't do any drugs beside my Blood Pressure medicine. I do not smoke. I quit smoking when I was 32. I haven't drink a beer or anything containing alcohol for several years. I use to drink lots of beer. I can't seem to enjoy even one beer now. It bothers my stomach.
I have 8 painted desert sheep. I have two outside dogs that are top watchdogs and they will bite. There are copperheads and rattlesnakes all over my acreage. There is poison Ivy all around me and on my place.
There is a place I use to work. I have a lifetime invitation to their two Dinners they have each year. I have worked at Vance Air Force base, Aero-Commander, Aircraft Engine service and Roth & associates. They owned many apartments complexes. I was in charge of getting everything repaired throughout the Oklahoma city area that Roth and associates owned. I did all this in my early life plus some part-time plumbing here and there. The rest of my life for 30 years on up. I worked as a Commercial Plumbing contractor and now receive State retirement. I did this till I retired I have never been one day without a job. I have never drew unemployment. I call myself one 'Lucky Man' . I am so glad to say I'm retired. I believe in God and pray all the time for help from him on a daily basis. I pray for me and anyone else I see fit to pray for. I'm just like everyone else. I sin sometimes. I get a little crazy and am not perfect by a long shot but I try. I did lots of crazy stuff when I was young and often wonder why God didn't let me die then.
My wife and I both had Cancer. I had Colon Cancer in my late 50's. My wife had Breast Cancer in 2012. This year my wife had a double Mastectomy. We are Cancer free now but who knows. We could get it back any time. As we 'Age' that creates the biggest risk for Cancer I was told. We are very poor after paying all the medical bills that Insurance didn't cover. I've had to cut back on the dogs due to feed prices and medical bills. Anyway I hope some of you readers try to be Good People as you go through life.
No matter what anyone says or thinks about me. I am going to do things the way I desire and not break the laws of the land to the best of my ability. Frank Carver, James Kelley, Weldon Stockton, Bennett Clayton ,Charley Adkisson and Gary Hammonds have remained friends for around 40 years. I have many more friends from the old days but most of them are dead. I think about those that are gone and miss getting to hear their stories. All were good dog-men in their day.
One of my Granddaughters got after me about getting angry about what people say about me. She said Papa you put your name out there with your web. No matter how sincere or honest you try to be. The crazies will go after you and there friends will come with them after you. It is the world as it is now especially in web-land. I guess she is right but it is a little disappointing. I had no idea people were so rude and nasty. I live in the Bible belt. I get letters of support daily and am thankful for that.
Below is a little bit about me. The home I was raised in. The town I was raised in. Where I went to church every Sunday for fourteen years without missing one Sunday. After all that good upbringing. I ended up as crazy as the rest of you Guys and Dolls. I never have used God's name in vain my entire life and neither has any of my family. I have taught them those four letter words sound bad. But saying that three letter word using God's name in vain will get you in hell. So that has caught on with my entire family. When I got into my forties. I got back on track and am leading a good honorable life. I'm sure not perfect there is only one good person and that is God.
I had this sign up years ago.
It was taken down years ago.
.
I am a little different than most people are about the government watching and listening in on me on the phone. It scared me at first. If it stops one Arab or terrorist from entering the USA. I am all for it. I say nothing or do nothing for them to hear or see any unlawful things done here at my place or on my phone. There just isn't anything illegal going on here. It is pretty simple for anyone even if they are an outlaw. Do not talk on the phone. Do you realize how complicated it will be if a dirty bomb is ever set off in the USA and many of our people are killed and that might include you. Military will be everywhere. No one can even travel from town to town without a permit or being stopped and inspected. It might take an hour or 5 hours for a 20 mile trip. That is lots scarier than the government listening to me on the phone or the watching me on the satellite. Give some thought to terrorist prevention and the saving the lives of the American people.
My old ugly mug in 2011. This is 'Randy Fox'.
If you ever get a garden. Download this photo and it will sure keep out the Varmints. Enjoy the web.
I know it is hard to believe but I've only been in jail once when I was a boy. It was for drag racing on a interstate highway. I told everyone in that jail. Do not introduce yourself. I will be out of here as quick as my parents get here. I did not ever get busted again after that. I keep a few game-bred dogs because I have them so long and would miss them and need them to talk to.
Some people are afraid of having registered dogs with the paperwork on hand. Look at all the dogs that Michael Vick got caught with only one was not adoptable. Just because you have offsprings of fighting dogs does not mean they are going to be good fighting dogs. It is like putting all of Sugar Ray Leonard's children down because they might become Boxers if Boxing was a felony. Out of five littermates we had the pacific breed DNA test done on. None of the five came out with the same amount of Terrier or Bulldog or off breed blood. Even though they may all have the DNA that shows them being out of a male dog or female dog that was fought. They were all five different in their inheritance of the different breeds that were in their sire and dam. So a regular DNA test proves nothing without the pacific breed DNA test done also and it has very seldom came out like either parent's Pacific Breed DNA. I hope Law enforcement reads this and understands what I am saying. I hear they have a DNA database for the proof of certain confiscated dogs being out of fighting dogs. Thinking that is proof to arrest people for owning these bloodlines. I sure could give some opposing testimony to that theory.
To quote a Bible Verse. When I was a child, I talked like a child, I thought like a child, I reasoned like a child. When I became a man, I put childish ways behind me. I want to go down in history as a Great Father. A Wonderful Grandfather and a Wonderful Great Grandfather. Not a famous dogfighter. I am blessed with the best loving and wonderful family that I could ask for. None have ever been on drugs or none have ever been arrested. Crazy as I have been. I do not deserve this happiness but I have it. Do not fight dogs unless you want to leave your family for a while.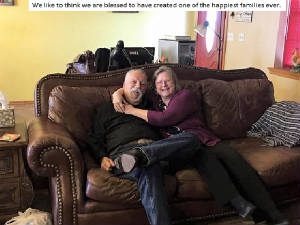 My wife and I above. I'm 74 in this photo she is 70.
Some of my 30+ dogpens 16 X 20 foot each.
All my dogs are in big old but sturdy Pens. If you doubt me; Point the satelite at me and look.
Frosty lifting this truck. He was 63 years old.
Frosty Barrett keeps some top pitbulls through the years. He is one stout man. He is a good friend.
This man has some of the best Mayday Blood in the country. Above is my good friend Frosty Barrett. He is stout for 5 feet 8 inches tall. That truck has an engine in it. Just in case you wonder. I ask him after he did this if he had any back problems. He told me he had never had a back problem. He was a heavy equipment operater till he retired a while back. He is aorund 80 years old now. He keeps some real good Mayday dogs and has some pups to sell now and then. He is one straight up honest fellow. We have been friends for 50 years. He is the guy to see for Mayday stuff. He will not rob you. If you are looking for one of his dogs. If you need a pup Call 918-968-3488 and ask for Forest Barrett in Stroud,Oklahoma.
As you see I have put my Dogfight History web info back up. I have the freedom of press on my side for those who have sent threatening letters. If you happen to like this web. Please write and tell me. I need more encouragement. Randy Fox 2240 Choctaw Road. Goldsby,Oklahoma 73093-9231.

randyfox70@yahoo.com

405-288-6014. I have nothing to hide here from Law Enforcement. There are no dog books, no breaking sticks, no treadmills. My lawyer tells me that trumped up charges will not hold up. I am simply telling the pitbull history the way I remember it. I haven't fought any dogs and I am not involved in anything illegal since I was in my 40's.
Gary, My son-in-law and a hog he caught.
He caught this hog with one of the dogs from my yard. Gary is 6'8. So this hog is fairly large..
Below is Remi. She is a 100% house broke dog and will protect us. Anytime someone knocks I have to hold her until we see who it is. Remi is quiet the hunting dog. she has a nose on her that Is superior to many dogs..
My cousin Bill McCasland and a hog he shot.
He said it was delicious because he hung him and seasoned it right.
If your PETA, Humane Society or the ASPCA and you go after Bill for hog hunting and your a pretty girl. Bill is quiet the ladies man. He will have you hunting, skinning and cutting up the hogs he has shot in short order. It won't take him long to reprogram you. Just a warning to the girls.
A few hogs we have caught. I hope the SPCA cries.
They were some good eating.
Below is a little of my history. The town where I was raised. My parent's home in the country where is was raised. A little about my childhood.
A good photo of the home I was raised in.
We raised lots of Wheat a little Cotton, Horses and cattle.
The house I was raised in.
My brother Larry lives on this Farm 4 miles south of Gotebo,Okla.
Below are some pictures of Gotebo,Oklahoma. This was my hometown. I lived four miles south of Gotebo on a farm. I do not think anyone I Graduated with still lives around there. It was 10 miles from Earl Tudor's house at Hobart,Oklahoma. The best dog fighter that ever lived and a big time Bootlegger.The main part of the town of Gotebo is about gone. It is basically a ghost town. There is a service station and post office out on the highway. The Grocery stores are gone. The Bank, Four Car repair garages ,Service stations, Movie theater, Hardware store, Drug store. Liquior store, Cotton Gin, Grain elevator and feed store. 3 Resturants, A Tavern & Pool Hall. The schools are closed. All of these are gone. It is sad for me to come there any longer. I get a tear in my eyes just looking. On saturday night the town was full of people and cars. The theater was full. I can see my friends, girlfriends and classmates in my minds eyes. Some are already dead now in 2013. Oil is what started this town and farming. As the shallow oil wells played out and the small farms got bought out by corporate type farmers the town died. The children all left for towns with jobs like I did. Lot of the immigrants that settled here were Russian born German People. Germans migrated to Russia to farm. Then they left Russia for more freedom in the USA. Some other nationalities including indians are still living here. I think about 200 people live in some of the old houses around this town but they have to go elsewhere for supplies. My brother Larry lives four miles south of Gotebo in our old home. He was director of public works 60 miles from there at Chickasha,Oklahoma. He is now retired as of 2014. He has no wife. He isn't good at marriage. He has been through 3 wives and I'm not sure how many girlfriends.
Gotebo's first department store built early 1900's
There were hundred that showed up for this. Back then there was a bank, movie theater,Drug store
This is Gotebo,Oklahoma the Ghost town. This is where I was raised. It is 7 miles west of Mt. View, Oklahoma. I took some of my Grandchildren there last week end to see it and how it is falling down. They went into the old buildings and explored. They had a big time. It is so sad for me to see it this way. It was a booming town when I was a kid. You couldn't hardly get down main street for the cars. There were litterally hundreds of people there on saturday night. They had a drawing at the movie theater for 5 dollars worth of Groceries. Wises drug store was on the west end of town in these buildings. It was a dry state back then but drugest could sell whiskey to drink for medical purposes. He had some little rooms with curtains where men drink out of brown medicine bottle and played cards and dominoes.
The main street of Gotebo. My home town and me.
There are no businesess left downtown. This is a Ghost town with some residence.
The store to to the left was Weiss's Drugstore.
When this state was dry you could buy whiskey from the druggest and drink it in a dark room there.
Some more of the ghost town of Gotebo.
It is sad for me to go there. I can still see 100's of people going to to town on saturday night.
Some more of my home Ghost town.
Some cars are there taking pictures but no business on the main drag.
I think this is the old city Hall.
This is the old post office.
There is a small metal building on the highway that is the post office today.
Chief Kau-Tau-Bone (GOTEBO)
Another photo of Chief Gotebo.
My home town above was named after this Chief. Kau-Tau-Bone (Gotebo)was a sub chief of the Kiowa. He was born about 1847, somewhere between the Colorado Mountains and Texas, and died in 1927. He is buried in the Rainy Mountain Cemetery, between Gotebo,Oklahoma, the town named for him, and Mountain View, Oklahoma.

Kau-Tau-Bone rode on many raids with the Kiowa during his time on the plains. As the wars on the prairie were winding down. He rode with a group of scouts in 1875. These Scouts were sent to persuade Lone Wolf to come in on the reservation. Among this group, led by Big Bow, were San Deigo, Gum-bi, Guot-sai, Tape-day-ah, Po-hau-ah, Se-loh, Tsain-tonkee (Hunting Horse) and Go-ah-te-bo.

Kau-Tau-Bone was one of the first Kiowa to be baptized at the Rainy Mountain Church in the 1880's. He and his wife, Ome-boke, a sister of Big Tree, had no children. He was as kind as Big Tree was mean. Many kind deeds were told about him by both the white and Indian people of the county. Church records show he accepted the white man's pronunciation and spelling of his name, and changed it to Gotebo, after the town named for him.

I passsed Earl Tudors home each Sunday going to the brick church pictured below. The last time I saw this Church it was abandoned and was for sale or lease.
My Church I went to as a boy. It is abandoned.
I went to this church for 14 years without missing a sunday.
One of the indian churches here in Oklahoma.
My Baby Brother Tim. He is a Train Engineer.
This is one of the Train Engines he drives up and down the tracks.
Larry, Genia, Randy, Tim, -- Mom, Dad in front.
All the kids are College Graduates but me. I'm the oldest and dumbest, a Licensed Plumber (retired)
Craig Wilson a former Boxer.
Craig Wilson' the white guy' a famous Patterdale breeder exercising with a little boxing.
Chubby on the left & Lewis is right & then Zena
Chubby's Snake the red dog was one good dog. Zena was a Heinzl dog.