How to Build a breeding Stand for $24 plus Tax,Bolts,metal & Paint.
I bought these two Jack Stands at harbor Freight for 24 dollars plus Tax. I bolted the front one in close to the edge permanently. The one with the square sheet of metal adjust forward and backward. The jack-stands adjust up and down. I drilled a hole and put a bolt horizontal through the jack-stands to lock in the height I wanted for each dog. I did not trust the lever because the dog might hit it with his foot and make it go up or down. I put on two collars. I can attach them to the dog in the flank and the neck. The Jack-stands go from 20 inches apart to 16 inches and are bolted to the Jack-stands. The distance is adjusted with bolt holes drilled in the small square metal under the back jack-stand and bolted to the large metal plate. I used an old side door off a horse trailer. I have 24 dollars plus Tax in the thing not counting the dog collars, Paint and bolts I already had.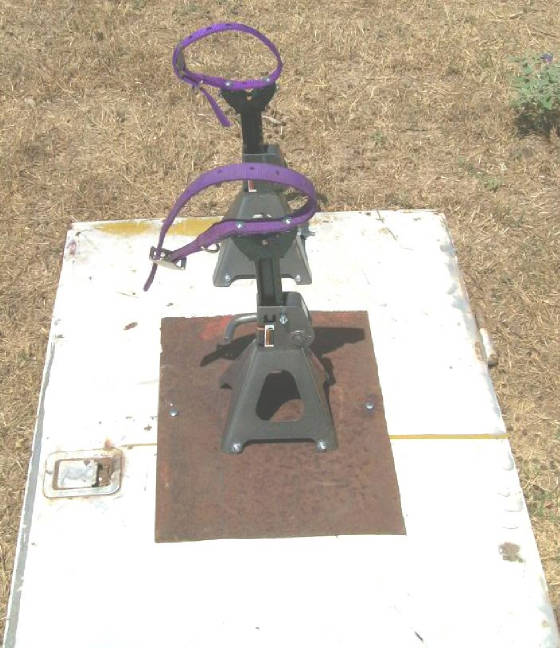 This is the breeding Stand after Painting.
Forever Swivles Completely disassembled.
2, 1&1/4" gas caps 2 each 1/2" S connecters 1 each 1/2"bolt & nut Two 1/2 Inch washers.
Bindt the two gas caps with a lock nut and washers
Use heavy grade bolts and lock nut and two washers or lock tight so nut will not come loose.
Completed the longest lasting swivel that works.
use 1/2 inch s connecters.