Who said Pitbulls aren't smart.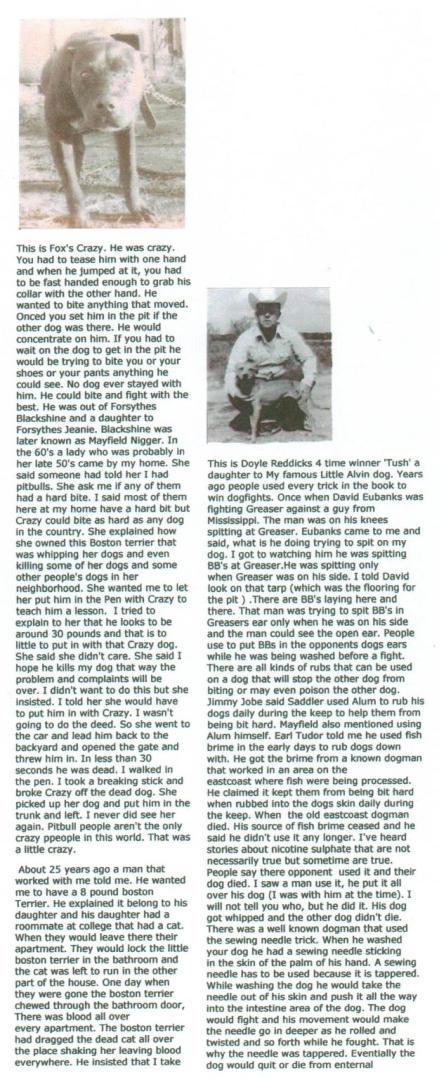 The Famous James Crenshaw & Black Jack.
United States Social Security Death Index," James E Crenshaw, 2010
| | |
| --- | --- |
| first name: | James |
| middle name: | E |
| last name: | Crenshaw |
| name suffix: | |
| birth date: | 11 November 1939 |
| social security number: | |
| place of issuance: | South carolina |
| last residence: | Gibson, Tennessee |
| zip code of last residence: | 38233 |
| death date: | 16 June 2010 |
| estimated age at death: | 70 |
Someone Sent me a Obituary for James Crenshaw it was wrong. Here is the correct Version. James daughter Rene passed away on June 10, 2010 and was buried that weekend. She is buried near Buford, Ga.. On the Monday after her funeral, on the way back to Tennessee, James slipped into a coma and passed away a couple of days later. He is buried on a hilltop near Pickens, SC.
I am James Ernest Crenshaw, Jr.'s brother"Obituary (Greenville News, June 19, 2010)

James Ernest Crenshaw, Jr., beloved husband of Dessie Bell Shook Crenshaw, passed June 16, 2010 at Horizon Medical Center, Dickson, TN in his 70th year. Loving father of Randy Waldrop and his wife Scarlet of Cumming, GA and Elaine Phillips and her husband Paul of Cumming, GA; adoring grandfather of 15; brother of Elbert Crenshaw and wife Kathy of Six Mile,

J.C. Crenshaw of Greer, Edward Crenshaw of Piedmont, Elizabeth Crenshaw Pruitt and husband Frank of Inman, and Eula Crenshaw Hinson of Greer; uncle to several nieces and nephews. Mr. Crenshaw was born in Transylvania County, NC

To the late James Ernest Crenshaw, Sr. and Mary Moore Crenshaw. In addition to his parents he was preceded by son Michael Crenshaw, daughter Rene Crenshaw Owens, and brother Frank Crenshaw.

He was retired from Tyson Foods and a member of Walnut Grove Baptist Church, Kenton, TN, an honorably discharged veteran of the US Navy, and was a Mason.

Funeral service 2 PM, Saturday, June 19, 2010 in the chapel of Dillard Funeral Home, Pickens, SC officiated by
Rev. Jerry McCormick and Paul Phillips
Visitation 6 to 8 PM Friday, June 18, 2010 and 11 to 2 prior to the service.

Burial in the Crenshaw Family Cemetery.
In lieu of flowers the family respectfully requests donations to the American Heart Association of Upstate SC and Western NC, 3535 Pelham Road Ste. 101, Greenville, SC 29615.Source = my inbox
This was my last year to reknew this License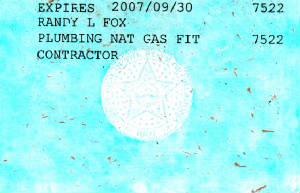 I hope to never plumb again.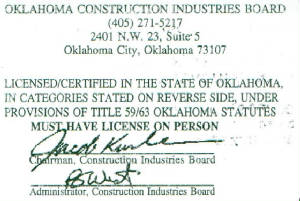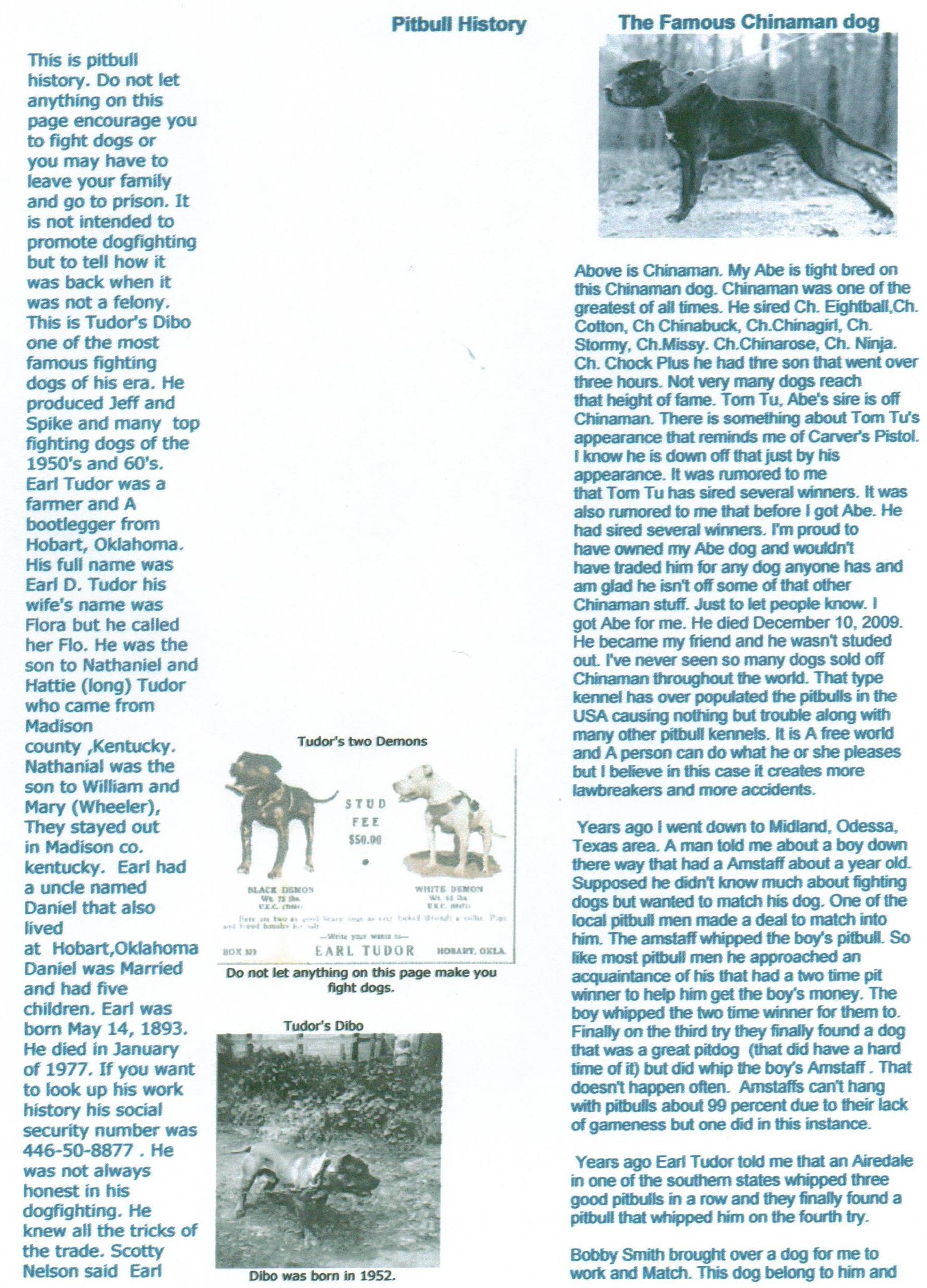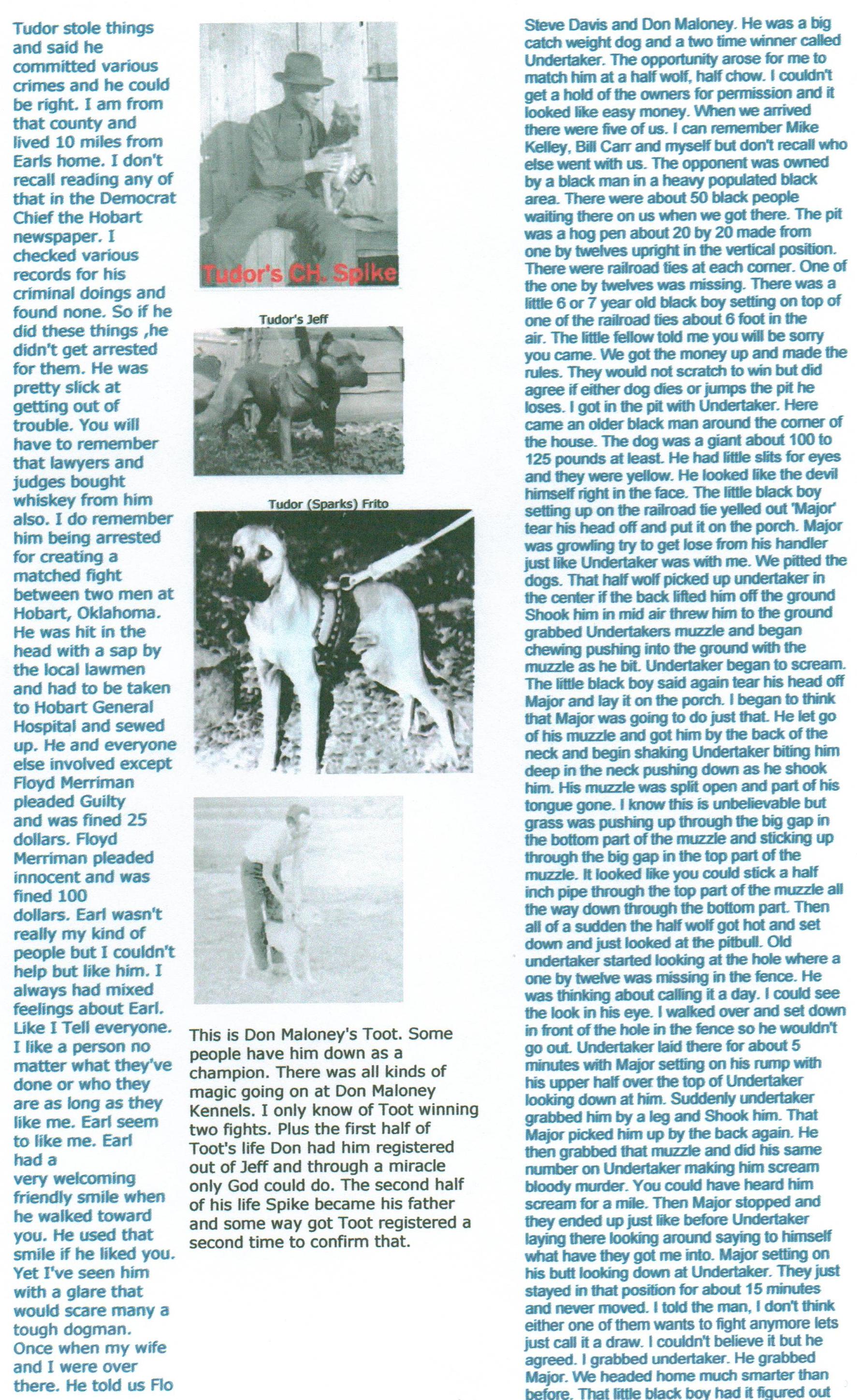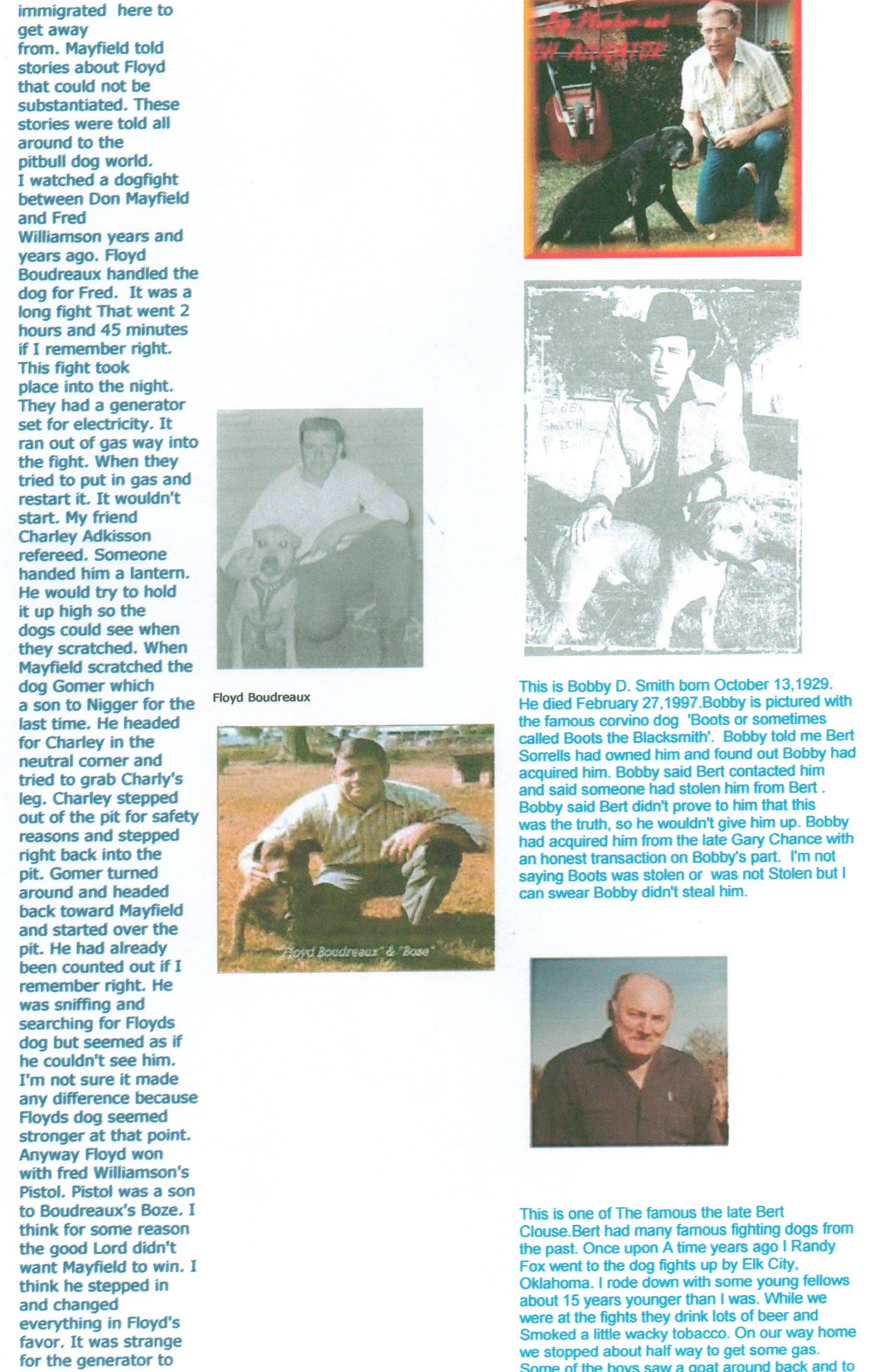 Taken close to the late Jim Williams home.



The Late Jim Williams home at Mtn. View Okla.


Jim died in the 1970's and this has been remodled but it was his home at 143 N. 5th St.

This is a photo of Jim Williams & Ch. Brindle Jack



Here is a little info on Jim Williams.

First Name:
James Phillip
Middle Name:
Last Name:
Williams
Name Suffix:
Birth Date:
11 February 1895
Social Security Number:
443-26-9279
Place of Issuance:
Oklahoma
Last Residence:
Mountain View, Kiowa, Oklahoma
Zip Code of Last Residence:
73062
Death Date:
February 1975

Estimated Age at Death:

The Social Security records actually has Jim's name as James Phillip Williams. Yet they put Jim on his Tombstone.

80

Jim Williams use to have this little Poem on a business card. On the other side of the card he would have a good dog. Then he would advertise dogs for sale his address and phone number and all the info to help sell a dog. At one time he had' 'Nine time winning Hanson's Redman's Photo' on the front side of the business card and had the Joke on the back side. Somehow he got to be a 14 time winner on Pedigrees's Online. He won four fights after his death. What a dog.

Now I am so old and gray. My pilot light's gone out.
What used to be my sex appeal, is now my water spout.
I used to be so embarrassed to make that thing behave,
Each and every morning it'd stand and watch me shave.
Now I am much older...and it really gives me the blues.
To see it hang down........and watch me shine my shoes!

)


Bill Decordova An extra nice man.


He owned many famous Pitdogs.

Bill De cordova and his White Hope dog.



Bill De cordova's home in 2012.


It looks just like it did back in the 60's The out building Kennel is gone though.

Here is a little info on Bill de Cordova

| | |
| --- | --- |
| First Name: | William |
| Middle Name: | Solomon |
| Last Name: | de cordova |
| Name Suffix: | |
| Birth Date: | 14 July 1899 |
| Social Security Number: | 444-09-2216 |
| Place of Issuance: | Oklahoma |
| Last Residence: | Mountain View, Kiowa, Oklahoma |
| Zip Code of Last Residence: | 73062 |
| Death Date: | July 1970 |
| Estimated Age at Death: | 71 |

This is William S. DeCordova's Dad.

Leo W Decordova, "United States Census, 1920"

name:
Leo W Decordova
residence:
, Pittsburg, Oklahoma
estimated birth year:
1891
age:
29
birthplace:
Texas
relationship to head of household:
Self
gender:
Male
race:
White
marital status:
Married
father's birthplace:
Texas
mother's birthplace:
Kansas
film number:
1821483
digital folder number:
4384979
image number:
00801
sheet number:
3
Household
Gender
Age
Birthplace
self
Leo W Decordova
M
29y
Texas
wife
Ella Decordova
F
29y
Oklahoma
son
William F Decordova
M
5y
Oklahoma
son
Keneth F Decordova
M
2y11m
Oklahoma

Citing this Record

"United States Census, 1920," index and images, FamilySearch (https://familysearch.org/pal:/MM9.1.1/MJ9Q-BSD : accessed 18 Feb 2013), Leo W Decordova, , Pittsburg, Oklahoma; citing enumeration district (ED) , sheet 3A, family 48, NARA microfilm publication T625, FHL microfilm 1821483.

Bill's De Cordova's second Wife

Olivia Anna Weiss deCordova

Bill's second wife Olivia was married to a man named Toby Arvin Herring. Toby killed thier daughter and then killed himself in 1954. The daughter was eleven at the time. You can see that they both died in 1954 on the above records. Bill who was a butcher worked with Olivia at the Mountian view, Oklahoma Grocery store.They became friends and later married. I can't imagine what that nice lady went through with her husband killing thier daughter and then killing himself. I visted Bill and Olivia many times and they were both wonderful people.

Years ago they had a dogfight here on main street.


No one cared back then. Everyone showed up. Humans were humans and dogs were dogs back then.

Jim Williams & Bill de Cordova's home town.


This is Mountian View, Oklahoma. It is sad to go there all my friends are dead.

Some more of mountian View, Oklahoma.


We talked to the local police there. They had never heard of the old Sheriff Jim Williams.

Ed Weldon and the famous Jimmy Boots



Light'in Billy was a blue eyed iindian from McCurtain County, Oklahoma. He fought a few dogs and was said to be a dangerous man. A young boy killed him and he served no time for it.

Light'in Billy, Dogfighter, famous Oklahoma Indian

T.P stand. Some nice Indians let us take photos.


These were taken on the way to Jim Williams home from my home.

I've read somewhere that Jim Williams got Earl out of trouble when Earl Tudor got crossways with the law. That was hogwash. Jim was only the Town Marshall of Mountian View,Oklahoma most of his life. He was in no position to get someone at Hobart,Oklahoma out of trouble. He did work as a Deputy Sheriff of Kiowa County for a short while and he could have called Earl with warnings of raids. Yet he was still in no position of covering for Earl and getting him out of trouble with that job. I lived right between both towns in a little town called Gotebo. Look it up on a map of Oklahoma. I ran around in both towns and knew both men and can testify that story is crazy.

Jim & Veda Williams as young people.


Jim was Mountain View Sheriff for years and Vada was a Beautician.

The late Jim Willliams.



Jim Williams & looks like an English white Terrier



Another picture of Bill de Cordova.


He owned many a famous fighting dog..

Bill de Cordova's Grave. Notice the spelling.


de Cordova starts with a little d. I spelled it wrong all these years.

Bill de Cordova's wife.


I'm not sure which man she is buried by. I can't see being buried by someone that killed my child.