Weldon fought dogs till the felony laws were passed. This day and time he has nothing to do with anyone who fights dogs and doesn't fight dogs himself. Weldon doesn't own any pitbulls and is livng the good life.
My Friend Weldon Stockton
I consider Weldon a good friend.
Weldon & Wynelle Stockton
I met this fine family fromTexas when I was around 30 years old.
Mayfield and Stockton and Big Louie
The winning 'Big Louie' who belonged to Weldon Stockton.
Mayfield and Stockton's swig.
Stocktons's winning dog Swig.
Weldon, Big Liz and a bunch of pups.
Big Liz & two of Weldon's Daughters.
Big Liz a famous dog owned by the fine Stockton family.
Randy Fox in black,James kelley & weldon stockton.
Weldon Stockton, James Kelley amd Randy Fox
Weldon & Mayfield doing a little visiting.
Weldon, Bennett,a friend and Randy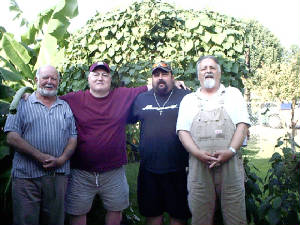 We all showed up at Weldon's to visit and drink a little beer.
Mayfield with Stockton's Big Liz
Weldon in his Clown outfit.
Bennett Claytons famous Eli Jr.
Bennett shortly before his death.
Bennett Clayton Obituary

January 27, 1948 - April 9, 2015 Bennett R. Clayton, 67, of Bryan, passed away Thursday evening April 9, 2015 at his home in Bryan. Visitation is scheduled for Tuesday April 14, 2015 from 6:00 P.M. to 8:00 P.M. at Memorial Funeral Chapel in Bryan. Services will be at 2:00 P.M. Wednesday April 15th at the funeral home with Reverend Monsignor John McCaffrey officiating. Interment will follow at Mt. Calvary Cemetery. Bennett, the son of Lottie (Morrell) and James E. "Jimmy" Clayton was born in Ft. Worth, Texas. He graduated from Stephen F. Austin High School in Bryan in 1966 and attended Stephen F. Austin University in Nacogdoches, Texas. He has lived most of his life in Bryan where he owned and operated his own Rental Property Business until his retirement. He was an avid Power Lifter and had won numerous Texas State Championships and many other Championships during his career. He was a member of the Catholic faith.He is preceded in death by his parents Lottie and Jimmy. He is survived by one son, J. E. Clayton of Bryan; one daughter Karen Harvell of Bryan; two granddaughters, Pressli Clayton of Bryan and Jordan Harvell of Dickinson, Texas; and one grandson, Clayton Harvell of Dickinson, Tx.