Ralph Greenwood and Okie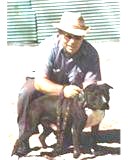 'Renee' Mrs. Ralph Greenwood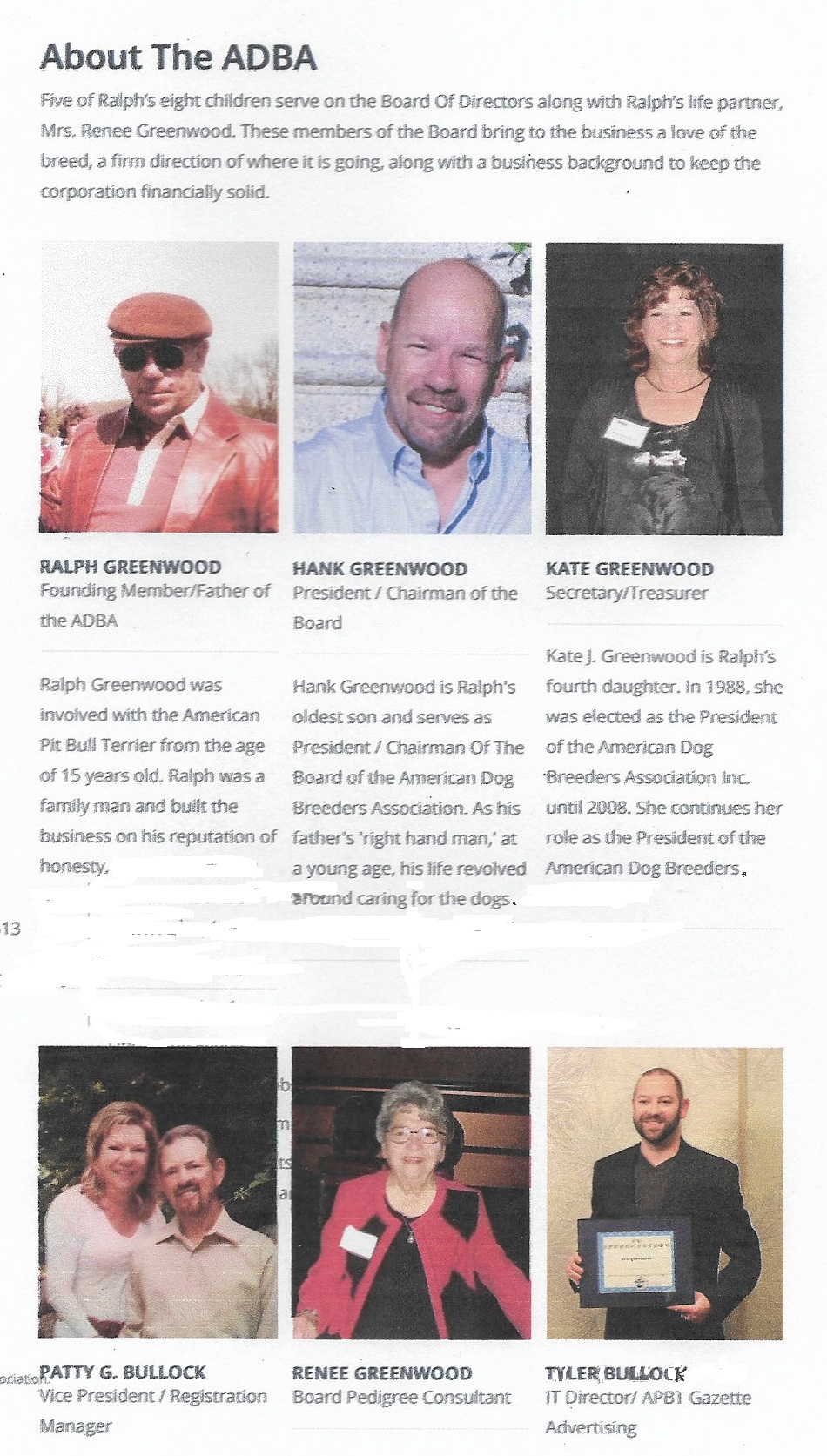 Ralph Greenwood and Strider.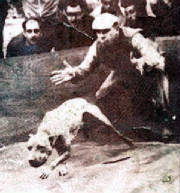 The American Dog Breeders Association, Inc. was started in September, 1909 as a multiple breed association. The residing president, Mr. Guy McCord, was an avid fancier and breeder of the American Pit Bull Terrier, and was a close friend of Mr. John P. Colby. Mr. Colby was the mainstay of the A.D.B.A. which prompted the boast of being the "home" registration office of the Colby dogs. All members, in good standing, could register their dogs and litters with the registration department upon the yearly payment of $2.50 dues fee. It seems that the exclusive member's idea gradually was replaced into an open registry to all owners and breeders of purebred dogs. Over time the association became focused on the registration of the American Pit Bull Terrier.

The A.D.B.A. passed from the hands of Mr. McCord to Mr. Frank Ferris in 1951. He, along with his wife Florence Colby, (the wife of the late John P. Colby) continued to run the A.D.B.A. on a limited scale, but with ever increasing emphasis on the registration of the A.P.B.T. breed exclusively.

In 1973, through the recommendation of Howard Heinzl, Ralph Greenwood and his family purchased the A.D.B.A. from Mr. Ferris, whose advancing age prompted his retirement. (Mr. Heinzl was a personal friend of Frank Ferris and a staunch supporter of the A.D.B.A., as he registered his dogs exclusively with A.D.B.A.) We often wish Frank could have lived to witness the growth of the present association. He would have been pleased.

Our association continues to grow in the USA and other countries overseas. The American Dog Breeders Association Inc. is the largest registration office of the American Pit Bull Terrier and now accepting other purebred dogs, usually working breeds.

Beginning 27 October 2006 the registry is opening its stud book to accept other purebred dogs.
United States Social Security Death Index," Ralph E. Greenwood, 1988
| | |
| --- | --- |
| first name: | Ralph |
| middle name: | E. |
| last name: | Greenwood |
| name suffix: | |
| birth date: | 23 April 1931 |
| social security number: | 529-32-0601 |
| place of issuance: | Utah |
| last residence: | |
| zip code of last residence: | |
| death date: | 15 February 1988 |
| estimated age at death: | 57 |
The famous Jimmy Boots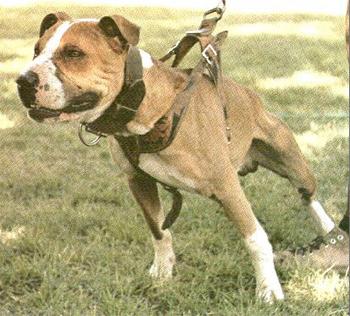 The Texans had arrived the night before by plane. Willie Brown,
Halliburton, Carver, Hall, to name a few and joined by Freddie Jones and
Indian Sonny. The fans from Utah came with their entire families. Mr G has
about ten kids himself, I think. Ed Weldon from Colorado along with them,
totaling 20 men per side. Benny Bob is weighed at 53lbs, washed and enters
the pit after the toss of a quarter. Brown waits in the pit while The Man
from Utah Mr Greenwood brings in Jimmy Boots. The weigh in finds him over the
weight of 52lbs by a mere 2oz BUT is over the weight. Texas decides to
claim the forfeit as well they should, but The Man from Utah says... I
still have 13 minutes before pit time to make the weight and he hurries into
the house. Returning within the 13min it was heard he led the dog to a
tree and then wiped the wet sand and mud from his dog's feet and tail.
Jimmy Boots is weighed...on weight.. Good going Mr Greenwood,,Halliburton says.
The fight is on. Jimmy Boots is washed and enters the pit, and Pit Your
Dogs. Bets by the hundreds are called and accepted by both sides of the
pit.
These two dogs are more evenly matched than any other two dogs I have ever
seen. They swapped stifles, shoulder holds, rolled, bit noses, and
literally ShipWrecked each other the first 35min. Mr Carver says.
A lot of encouragement from both sides. The scratching starts after a turn
is called while both dogs are rolling after each other. Jimmy Boots to
scratch,,,handle,,completed, more fighting, each dog is on top then on the
bottom. I think Jimmy Boots is the harder biter, but Benny Bob seems to be
able to reach in there no matter what hold Jimmy Boots takes. First one
scratches, then the other. A count of how many times was not recorded, but
no doubt about both these determined animals going accross. One hour
fifteen min approximately, finds Jimmy Boots has lost the use of hisback
legs from those crushing stifle holds, and on a scratch by Benny Bob the
legs collapse, letting Benny Bob on top, crunched into a corner. They go
to mouth fighting. Hard biting even now. Benny Bob loses a top cutter with
Jimmy Boots chewing from the bottom. Looks like Texas is ahead now. A
handle can only be made by Willie Brown as his dog is on top and they
remain bunched into the corner. Time goes by as both dogs chew out their
holds. Both handlers congratulating each other on the tremendous dogs they
both have shown. One Hour Thirty,,the handle,,as The Man from Utah sees
them free of holds. Brown picks up from the top and a leg dangles in front
of Jimmy Boots, and he goes after it and grabs hold. Brown lets go again
and this gets Jimmy Boots out of the corner and on top of Benny Bob,and he
starts working. Handle,,scratch by Utah,,,fighting,,,handle,,,a scratch by
Texas. One Hour Forty finds Jimmy Boots taking the top position. That Man
From Utah can sure put one up, someone from Texas says. Shake the Bear Mr
Greenwood tells Jimmy Boots and he shakes. Benny Bob laying out of holds now but
trying to take a nibble in the rib cage every time Jimmy Boots shakes the
shoulder, but he is completely exausted and critically hurt. Everyone
thinks Benny Bob can never make his scratch now,,,then both dogs boil up
on their feet together in holds. More fighting,,handle,,Benny Bob should
never be able to go,,OVER HE GOES,,handle,,Jimmy Boots crosses. He bites
in with that fire in his eyes,,,using the energy he should save to live
with,,,handle,,Texas goes again although weak on his feet,,handle Jimmy
Boots scratches,,handle Benny Bob lunges from the corner, but loses
momentum half way over and is counted out 20 sec count. Its over,, Ed
Weldon with Jimmy Boots and The Man from Utah the winner in two hrs and 5
min.
Ed Weldon and the Jimmy Boots dog.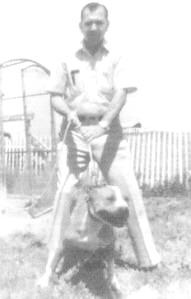 The famous Gr. Ch. Strider on the left.
He had several owners Ed Weldon, Greenwood and then Maloney