In the early days someone who was locked up serving time behind bars. He drew some of these pictures on this page and sent them to me though the mail. I did not know the man but would like to thank him. Below are a few of the dogs I fought before all the felony laws were passed. This is just History. If you don't like this being written. Go somewhere else and read. I am protected by the constitution and a supreme court decision. Don't fight dogs unless you like jail.
Below are a few of the dogs I fought in the old days. 1960's-70's and 80's. I fought lot a of dogs back then. I threw away all my pictures. All my Books and anything that had to with pit-bull dogfighting was destroyed. I had to find photos from other friends just to post what I have here. Please do not let this Web influence you to fight dogs. It will get you in prison. Plus a lot of the people fighting dogs today are use to breaking laws and are breaking many other laws as they do this sport. Back in my day. a lot of the people that fought dogs were straight law abiding citizens. All they did wrong was fight dogs.
I bred very few females to 'Alvin The Dog'. Since he was 1/4 Amstaff and that scared me. All the pups he produced were not good but about 75 percent of them were. If I knew what I know now. I'd bred him to lots of good females. He crossed good with Tudor stuff.
Drawing of Randy Fox's Famous Alvin The Dog.
A man in Prison drew and mailed this picture to me. I did not know the man.
This is Alvin's true pedigree. He was 1/4 amstaff.
A caption from pit-dog report Magazine. Even though Alvin fell,stumbled and crawled he completed his courtesy scratch in less than 5 seconds. The picture shows one of his stumbles just before he reached out and grabbed the dog. He wanted that dog so bad. He tried to run toward the dog but was hurt to bad but didn't let that stop him. He managed to get there with a fast but uncoordinated stride .
Below is a page from Pitdog report
He completed this scratch in about 5 seconds.
Even though he fell,stumbled and crawled he still completed this scratch in 5 seconds.
Alvin The dog's pedigree.
I want everyone to know. Pitdog report and Maloney or Mayfield didn't have anything to do with giving me that Gamest dog of show. Both have taken credit for it but it is not true. One of the old timers of that era. Cecil Collins started yelling and cussing the whole bunch for slighting Danny and I at that fight. He yelled out. Fox if you ever fight at one of these guys fights again I'll never speak to you. He had a fancy new engraved collar and after chewing some ass. He made them give it to me for the gamest dog of the show. Maloney presented him and Homer sams the award for their own dog earlier and got lots of Boos and their dog quit his next fight. What a Joke that bunch was. Anyway Cecil made a friend out of me for life. Danny has written quiet a bit about this deal they pulled in different interviews he has given.
Another Clipping from Pitdog report.
Drawing of My famous Alvin the dog and me.
A man who was doing time drew this picture. I did not know the man. He mailed them to me.
Above is 'Alvin The dog' as he was called. In 'Alvin the dogs' first fight. I fought this dog at a man named Alvin Kephardt. A famous pit-dog man from Oklahoma and a follower and friend of Earl Tudors. I beat a brother to Burton's famous Hank dog. 'Alvin The dogs' second fight was a much harder fight. I fought 'Alvin The Dog' into Danny Burton's Whitey. Although I can't prove it. Danny's Whitie dog had to be out of a colby male I sold to Mr. Witherspoon of Oklahoma city. He sired many a long hard fighting mostly white dogs. He looked just like the dog Colby Baron that I believe to be his sire and fought just like him. Anyway the fight went two hours and twenty three minutes with no turns and no out of hold counts. Alvin killed Danny's Whitie dog in the pit and almost died himself. This was a punishing fight. Once Alvin got complete control toward the end. He would put his feet on Danny's Whitey dog's chest and pull bites of flesh from Danny's dog. When Danny's Whitey dog was declared dead. I took Alvin to the corner and Danny held his dead Whitey dog up in the opposing corner. I held Alvin for 30 seconds facing the corner. He was screaming twisting and jumping trying to get to the Whitie dog. I faced Alvin at him and turned him lose. Alvin tried to run hard at him and stumbled and fell but still managed to get to him stumbling as he went. Alvin completed a very game scratch and spectators jumped up and clapped and screamed compliments as he hit Danny's dog in the chest. I got Alvin and wrapped him in a Blanket as quick as I could and headed home. When I got there I had My Vet come over and he gave Alvin anti-shock medication and electrolytes. I'm not sure what all he gave him. For 12 days Alvin laid on his side never getting up. I laid his head in my lap and fed him chicken Noodle soup and broth with a teaspoon. I would exercise his legs extending them up and pushing them back toward his body. He would moan and grown as I did this. On the 12Th day I went to his climate controlled room in my garage and he was standing. I was never so glad in my life to see him standing. I said are you alright boy and he wagged his tail. His flesh smelled like death warmed over. I bathed him in some stuff my Vet gave me for a week or so. During all this recovery each day I ask myself. What kind of man could do this to a dog. I swore to myself I'd never fight another dog. But as time went by and my mind healed. I did fight more dogs. It is addictive and very hard to quit once you start.
This is Fox & Adkisson's Bonnie
I took this photo at my home.
Charley went over to Maloney's and talked him out of this bitch. She was a full sister to The famous Tombstone male. She would not fight. She was stone cold. She was 5 when he got her and she never had been in heat. He brought her over to me. He was going to shoot her but I talked him out of it because she was Tombstone's sister. Tombstone was a great dog. I went to Doc Carlson in Oklahoma city and got some pregnant Mare serum. (you can't buy that anymore) I gave her a shot. She came in heat in about two weeks after the shot. We bred her to Alvin the dog and split the pups. I didn't want her and took her back to Charley and he did something with her. I don't believe she raised another pup. I let Gary Hale have a male pup. He called him Oklahoma. He won two fights with him and both were over two hour fights. Every pup in that litter won fights. Someone made some pedigrees up on Hale's Oklahoma and it has Maloney's Bonnie as his dam. It also had Maloney as the breeder which was bull. Maloney had no part in that deal and owned no part of Bonnie at that time. I wouldn't have let him breed to Alvin anyway even if he begged. He didn't like Alvin and cussed him all the time. He was a jealous sort. Ask Danny Burton about all the things he did verbally trying to hurt Danny and also trying hurt me with his mouth. That is part of the reason I kicked Maloney's butt.
Some Dumb Dumb called Cyberbully was telling all the gullibles on Pedigree's online to never breed a cold bitch. Dibo's Mother was cold and I can name lots of cold bitches that produced great dogs and great bloodlines. Oh well some people know it all.
This is Dude his reg. name Andy Jr,
He won two fights for me in the 60's. One for me one for Charley A.
'Yellow' I won 2 fights with this dog in the70's.
Fox's Yellow. He whipped a Maloney dog and a dog from the east.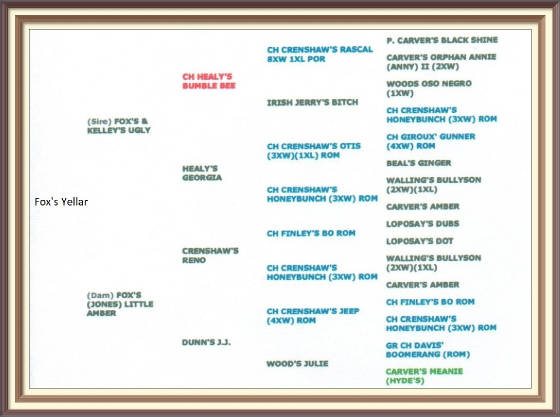 Photo of 2XW Goober with my daughter Rachel 1970s
ADBA spelled his name Gobber But I didn't fix it.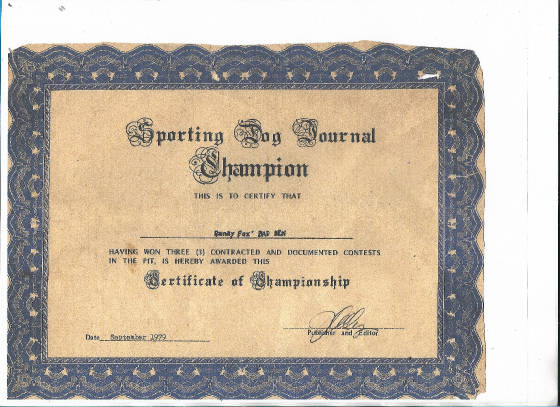 This fight above which is strictly History took place in the late 1960's on my Parents property. It was about 3/4 of a mile west of their home at Gotebo, Oklahoma. This farm is located around half way between Earl Tudor's and Jim Williams Homes. I feel fortunate to have lived this close to each of those famous dogmen. I learned a lot from both of them about how to do the conditioning and handling of the pitbull in fights.
Fox's Little Killer dog. A one time winner.
One of four dogs that someone poisioned for me. I found all four the same day dead.
This is Fox's Little Killer. She whipped a one hell of a Bitch for Rick Bethel. This guy had won lots of fights in a row without a defeat. Some say Nine some say 12 who knows but he was a top young dogman and good at it. Killer hurt this record a little. Rick had a half brother to my Alvin dog called Lion. He whipped Ronnie Anderson, Maloney and Carl Beasley with Lion. All those guys were good dogmen. Plus he whipped several other good dogmen with various dogs. Rick's Bitch came in over weight. He paid the forfeit and we fought. Killer ate his dog up. He picked her up in a little less than and hour to save her.
Fox's Ch. Rusty
This dog Beat Linville's Warrior, and a dog of Williams', & a Neblett dog.
Fox's Crazy. Sired by Forsythe's Black Shine.
This dog stopped two dogs in short order. Hardest biting 39 lb.dog I ever saw in my lifetime.
This dog is Satin. He whipped Larry Martin's dog.
Buster a 2 time winner the last dog I conditioned.
I conditioned this dog twice for a guy that was in prison. Another man handled him. He won both times. The man conditioned him in his last fight was the guy that handled him in his first two fights. In his third fight he lost.