Earl Tudor and his wife Flo,
Tudor's famous 16 time winner. "Black Jack"
Tudor's BlackJack Pedigree Below.
This blows Mayfields theory all to heck.
Tudor says he gets dogs anywhere al long as he can win with them.
Gr.Ch. Tudors BlackJack Jr. 9XW
Tudor's Black Jack Jr. 9TW
Tudor's Champion fighting Peter 3XW
Tudor and his Ch. Fighting Peter.
Tudor's Ch. Fighting Peter's pedigree
Tudor's Supreme's Pedigree
Tudor's Black Demon Pedigree
Jimmy Wimberly a long time friend of Earl Tudor's
He conditioned lots of dogs for Earl and himself back in the day.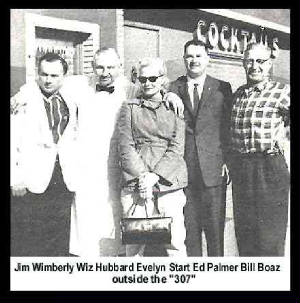 Cotton,Corvino & Wimberly
Plemmons,Tudor,Heinzl,Wimberly,Hemphill 1956
Jimmy Wimberly was one of the greatest dogmen that ever lived. He fought lots of dogs and Earl Tudor sent several dogs he won with. Earl trusted him completely.
James E Wimberly, "United States Social Security Death Index"
| | |
| --- | --- |
| Given Name: | James |
| Middle Name: | E |
| Surname: | Wimberly |
| Name Suffix: | |
| Birth Date: | 3 September 1931 |
| Social Security Number: | 436-40-7029 |
| State: | Louisiana |
| Last Place of Residence: | Vinton, Calcasieu, Louisiana |
| Previous Residence Postal Code: | 70668 |
| Event Date: | 7 March 2008 |
| Age: | 77 |
Tudor's Social Security death record.
Census Earl and Flo living with Earl's Folks
Earl Tudor lived at with his folks his entire life even after marrying Flo. He then got their home..
Earl Tudor's Aunt and Uncle.
Earl and Flo are buried beside Dan and Mary.
Bert Tudor, Earl Tudor's brother and Pincher.
Henry's Richmond 8xw
Earl Tudor's Favorite dogs were Henry dogs.
Henry's Rosemond Brindle &White 46lb.
There were Henry's all around Frank G. Henry. Frank's family had Scotish Immigrants all around them. I believe this was his way of getting good dogs Imported from Europe. Some say he imported them from England. I bet they were shipped from England and bred up in Scotland. That way he would know what he is getting. That is since he had family still in Scotland.
Frank G. Henry. A lot of the Henry's are Scotish.
Willaim T. Delihant, B, 03-01-1862 D. 02-04-1926
A well known dogfighter fought and owned some Henry dogs.